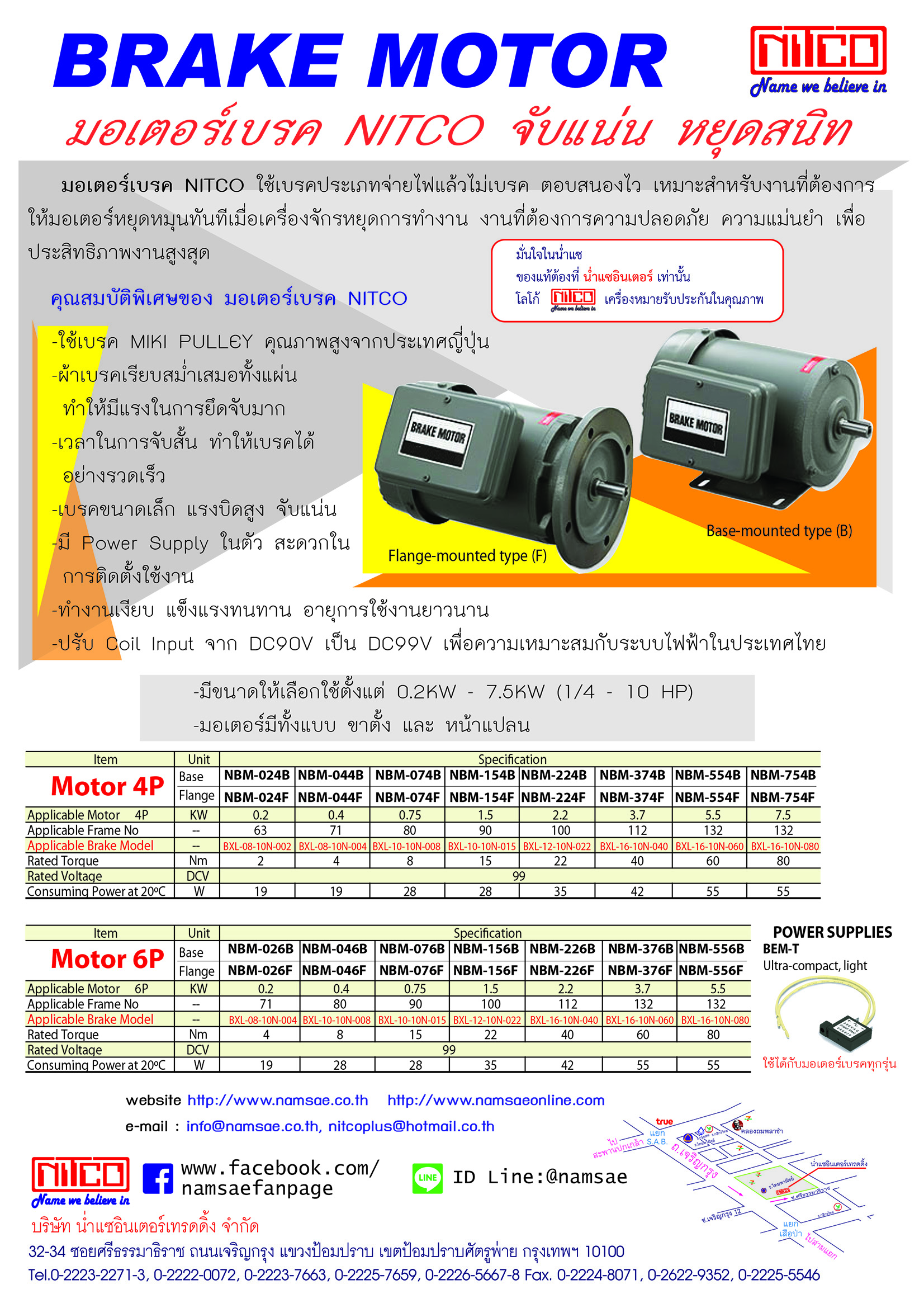 มอเตอร์เบรค NITCO ใช้เบรคประเภทจ่ายไฟแล้วไม่เบรค ตอบสนองไว เหมาะสำหรับงานที่ต้องการให้มอเตอร์หยุดหมุนทันทีเมื่อเครี่องจักรหยุดการทำงาน งานที่ต้องการความปลอดภัย ความแม่นยำ เพื่อประสิทธิภาพงานสูงสุด
คุณสมบัติของ มอเตอร์เบรค NITCO
- ใช้เบรค Miki Pulley คุณภาพสูงจากประเทศญี่ปุ่น
- ผ้าเบรคเรียบสม่ำเสมอทั้งแผ่น ทำให้มีแรงในการยึดจับมาก
- เบรคขนาดเล็ก แรงบิดสูง จับแน่น
- เวลาในการจับสั้น ทำให้เบรคได้อย่างรวดเร็ว
- มี power supply ในตัว สะดวกในการติดตั้งใช้งาน
- ทำงานเงียบ แข็งแรงทนทาน อายุการใช้งานยาวนาน
- ปรับ coil input จาก DC90V เป็น DC99V เพื่อความเหมาะสมกับระบบไฟฟ้าในประเทศไทย
- มีขนาดให้เลือกใช้ตั้งแต่ 0.2kW – 7.5kW (1/4HP – 10HP)
- มอเตอร์มีทั้งแบบขาตั้ง และ หน้าแปลน
อีกหนึ่งผลิตภัณฑ์คุณภาพจาก NITCO
Nitco Brake Motor incorporates spring-actuated brake with induction motor. It can efficiently offer high precision, fast response and perfect safety for all applications in wide range of industries.
Nitco Brake Motor's features
- Brake with premium quality from Miki Pulley Japan is selected to be one main part of Nitco Brake Motor.
- Stable Rapid Braking: Torque is transmitted by a constant-load spring, enabling stable and rapid braking.
- Fast response
- Built-in power supply: A small power supply is included in the product, and handling is easy.
- Long service life: The large frictional surface area provides a long service life.
- Coil input is changed from DC90V to be DC99V for suitable use with voltage in Thailand.
- Available from small size 0.2kW (1/4HP) until large size 7.5kW (10HP).
- Base-mounted or flange-mounted type of motor can be provided.
Carefully select for you by NITCO
สนใจติดต่อขอรายละเอียดเพิ่มเติมได้ที่
บริษัท น่ำแซอินเตอร์เทรดดิ้ง จำกัด
Tel: 02-223-2271-3
Fax: 02-225-5546
E-mail: [email protected]
Website: www.namsae.com
Facebook: www.facebook.com/namsaefanpage
Line: @namsae
Instagram: namsae_official